"Find something more important than you are, and dedicate your life to it.", philosopher Dan Dennet said when discussing the secret to happiness in a TED Talk.
Personal Development Courses
These courses are for individuals who are in transition to a new stage of life, like, recently moved to a new country or in need of reinventing their purpose of living abroad.
The courses offer a framework which aims at inspiring the participants to clarify their thinking, awaken their interests and take action.
Creative Living Abroad
12.9-24.10, Thurdays 10:30 am – 12:00 am.
Course organized by Helsingfors Arbis.
Course code A171062 A. If interested, please register here.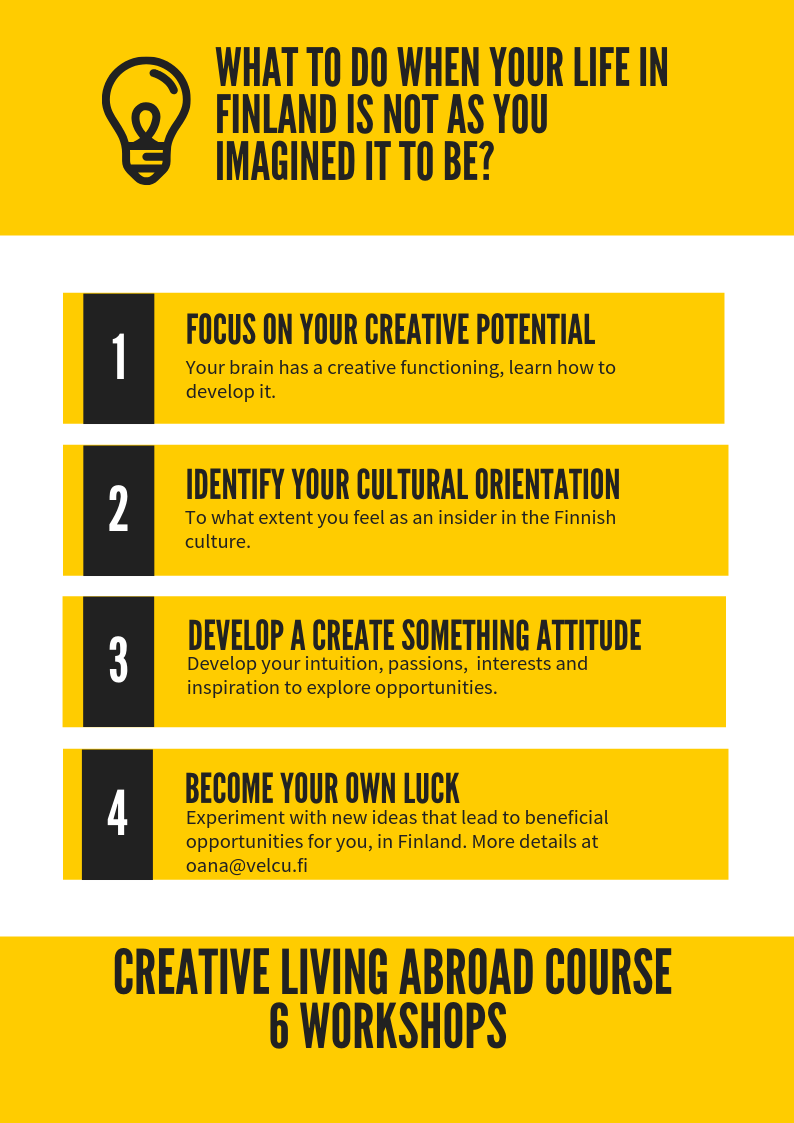 Expert Competence Course
31.10 – 5.12, Thursdays 10:30 am – 12:00 am.
Course code A171063. If interested, please register here. Welcome.
Creative Living Abroad
Organized between 11th September 2018 and 23th October 2018.
Here's what some course participants thought about the course:
It was incredible relief to have put into words the feelings I have been feeling all those years living here as a foreigner that are too hard to put into words for other people. And it all being presented in such a clear and structured way with scientific backing and explanations. Also, Oana's naturally positive character and enthusiasm, genuine care and compassion provided a gem of a space for expressing those feelings, sharing with others, and also generating ideas for transforming one's experience through positivity and creativity. The benefit is that in some way it was almost a healing process of some hardships of being a foreigner. Also, gaining interesting tools for transforming attitude, tools for further transformation. N. Aleksandrova
Wonderful group leader, new insights and interesting perspectives. H. Marstrander
Competence Course
Organized between 30th October 2018 and 4th December 2018.
Do you remember that I asked you the first class if I should apply to a dreamjob even if I don't fulfil all the requirements. Well, I did, and even if I did not get that precise job it got me very much further in many ways. I started getting much more freelancejobs from this employer, and it seems like we will co-operate much closer than ever before. So it really pays off to apply even though you would not be completely qualified for a certain job.Thank you again for a thought-provoking and inspiring class. H. Johansson
The group discussions, discussions in pairs and the online tests. All of these gave good insight to my personal situation, and to my strengths and weaknesses. 

The course did not throw "the grand revelation" at my face, but it really helped. During the course I started to get some confirmation of the direction I want to take, at least for now. Just for your information, my boss asked me about 10 months ago what I would like to do professionally in an ideal situation – at the time I did not have an answer for him. Already during the course I could now give him an answer. One thing led to another and now I have a new title in that area – just a title, but it's a start. Whether this is something I really want to do in the future is questionable, but like discussed in the course, it's worth exploring, right? M. Majuri
I liked that I dived deeper into problems I didn't realize I had and that I had that chance to think of myself once a week. I got curious about rediscovering myself and where to go professionally. D. Porumboiu

I just needed to get out of my current situation, I just didn't see how. For me, the big idea came during and because of this course. In that sense, it changed my life. Thank you. K. Huhta
Past courses March – June 2017
Choose Your Creative Potential
For whom
Anyone interested in unleashing the creative potential in his/her life in order to gain insights into particular areas of life, to see this area of life like he/she has never seen it before.
Why
Are you an explorer at heart? Are you curious about knowing what you can actually create in this life-time? Or being more aware about how you can enjoy your life in a more creative way?
Where
Arabiankatu 6 C, Helsinki.
When
Thursday, 23rd March, 6th April, 27th April, 11th May,
Past courses February – October 2016
The Choice of Happiness
The course consisted of 8 seminars, in which we covered topics such as awareness, self-compassion, empathy, generosity, awe, gratitude, love and forgiveness. These topics were tackled from both a spiritual and positive psychology standpoint. Each seminar took about one hour, by the end of which, the participants were endowed with a set of techniques to cultivate their happiness.
Read more →